Conference Pre- Activity
Green Entrepreneurship Training  Work Shop
Monday(4/April/2016)-Tuesday(5/April/2016)
Bilal Amro Auditorium "C-Ground floor " 
Facilitators:Ali Ramadan,Ayman Soltan,Wisam Shamroukh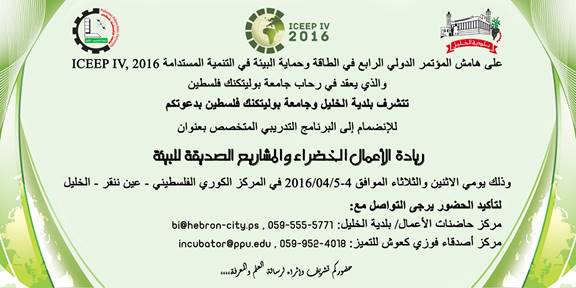 The Green Entrepreneurship Workshops Overview
This workshop provides a full range of activities and tools, such as:
Access to one of the first highly qualified green entrepreneurship training program in the southern Mediterranean countries. 
Participants learn how to convert step by step Green Business Ideas into a sound and feasible Green Business Project.
A dynamic, flexible and inclusive training program that includes a set of theoretical and hands-on learning with a wide range of tools that support eco entrepreneurs to transform ideas into a sustainable and successful business.
Business canvas and the lean start-up methods, the program will impact organizations or projects in all the stages of the business planning.
Training program is conducted through a two-day participative training  where participants will:
Gain knowledge and learn how to use tools to turn their innovative ideas into a Green Business Model;
Validate Green Business Model through practical exercises and tools provided in the trainings.
The green entrepreneur training program is organized around five steps:
Step 1. Sketch & set: the idea is sketched and reflected on the reasons behind asking "Why" make it happen.
Step 2.  Build: projects are designed by means of the green business canvas
Step 3. Test: Seeking to gauge assumptions separately, a progressive approach is adopted to testing in increasingly real market conditions.
Step 4. Implement: Once the model is market-validated, the time comes to plan the functioning and development of the project, by projecting it into the future and making estimations of sales, costs and other resources needed (financial plan)
Step 5. Measure & improve:  Lastly, as business is run (operations), a continuous improvement system is put in place by measuring impact in initial objectives and by looking for areas of improvement.
The facilitator
Ali Ramadan, Certified SwitchMed Green Entrepreneurship Trainer
Ayman Sultan, Certified SwitchMed Green Entrepreneurship Trainer
·Wisam Shamroukh, Certified SwitchMed Green Entrepreneurship Trainer Mr. Wisam Shamroukh is the Entrepreneurship and Innovation lecturer at Palestine Polytechnic University (PPU) and a senior consultant in Green Entrepreneurship, business development, international trade, capacity building, technical training, and IT development. At PPU, Mr. Shamroukh currently works as a director of Information Technology Center of Excellence. He occupied several positions at PPU, of which he was a chairman of department of Computer and Management, training department manager, director of University Graduates Union.  Mr. Shamroukh earned his Master in Computer Science from University of Detroit Mercy UDM in 2001. He is recognized as Green Entrepreneurship Trainer and Intel entrepreneurship Trainer, as well a Certified Technical Trainer CTT+ and Microsoft Certified Trainer (MCT.) He delivered technical training and train of trainers in the United States and Saudi Arabia.
Mr. Aiman Soltan Tamimi is the Vice president for Planning and Development, and President Assistant for External Relations at Palestine Polytechnic University; he is responsible for developing, directing and coordinating PPU's strategic plan in addition to multilevel relations to achieve development through productive relations and strategic planning.  He currently oversees all PPU units and centers that provide developmental services to PPU staff, students and graduates, in addition to the Planning and Development Department, Public Relations Department,  the Quality Assurance Department, and the Project's Coordination Unit. He facilitates the execution of PPU Strategies, defines and tracks the PPU objectives, assures that streamlined, cost effective approaches and improved operating model are in place and communicates and shares with key stakeholders. Mr. Tamimi works with PPU development staff to identify potential funding sources, to support PPU activities, and represents PPU and higher education institutions in many local and international entities such as the Palestinian Standards Institution, the Quality Improvement Fund, and others. Mr. Tamimi is also a lecturer at the College of Management and Information Systems at PPU. He holds a bachelor's degree in ceramic engineering from the University of Alfred in the USA and an M.B.A. from Maastricht School of Management in the Netherlands.  He is a frequent conference presenter, symposiums coordinator, and contributor to academic and professional journals on management and higher education issues and he provides many management and educational consultations on the national level.
Mr.Ali Ramadan was born in Hebron, Palestine; He received M.Sc. degrees in Computer Studies from Amman Arab University, Jordan, in 2004 and 2005, respectively. In 2011 he moved to be the project manager for the PPU Business Incubator at the Center of Excellence, where he coordinates several projects and initiatives to Led and Develop Education and Entrepreneurship so that young and ambitious people are empowered to lead their post-conflict society into prosperity. Ramadan holds a series of specialized Training in the field of entrepreneurship and innovation from several local and international destinations, he was a certified Build Your Business (BYB) Trainer, SwitchMed Certified Green Entrepreneurship Trainer, Certified Business Incubation Management (infoDev - World Bank) , also he recently return from a training course with title" Promoting Innovations & Entrepreneurship through Incubation- EDI of India, Ahmedabad", also  he attend another Training course from Indonesia with title "Information & Communication Technology Support for Palestinian SMEs Development- Bandung Institute Of Technology", In addition to Technology Commercialization Trough Incubation Programs and Increasing the deal-flow of your Innovation-based Incubator- The European Business and Innovation Center (EBN). In addition He Participate in several conferences, most recently was in the 5TH GLOBAL ENTREPRENEURSHIP SUMMIT GES2014, Marrakesh, Morocco
Workshop Schedule
Day 1: Monday(4/4/2016)
Topic

Time

Registration

Networking

09:00-09:30

Workshop Objectives

Participants' Expectations

09:30-10:00

Introduction to Green Entrepreneurship

10:00-10:30

Coffee Break

10:30-10:45

Session I: Ideation

Opportunities in energy and environmental protection

Eco Innovation

Factors Affecting ecopreneurship (PESTEL)

10:45-12:00

Lunch and Prayer Break

12:00-12:45

Session II: Stakeholder and Customer Segments

Stakeholder map

Clients gains and pains

Customer segmentation

12:45-13:45

Coffee Break

13:45-14:00

Session III: Value Proposition

Environmental Value

Social Impact

Economical value

14:00-15:00
Day 2: Tuesday(5/4/2016)
Topic

Time

Session IV:

Day 1 recap

Design Testing

09:00-10:30

Coffee Break

10:30-10:45

Session V: Customer Relationships

Channels and Customer journey

Project Activities

10:45-12:00

Lunch and Prayer Break

12:00-12:45

Session VI: Resources and Cost Structure

Revenue streams

Pricing

12:45-13:45

Coffee Break

13:45-14:00

Session VII: Ecodesign cards

Evaluation and Improvement

Wrap up and Conclusion

14:00-15:00